Award Celebration at Mannat Nursing Academy
Hello Nursing Students welcome to MANNAT NURSING ACADEMY. First of all many-many congratulations to all Nursing Students. Once again Mannat Nursing Academy makes a record of 87+ selections in Norcet 2022. Mannat Nusing Academy 89 students crack the Norcet 2022 Exam with best rank as 55th Rank of Komal.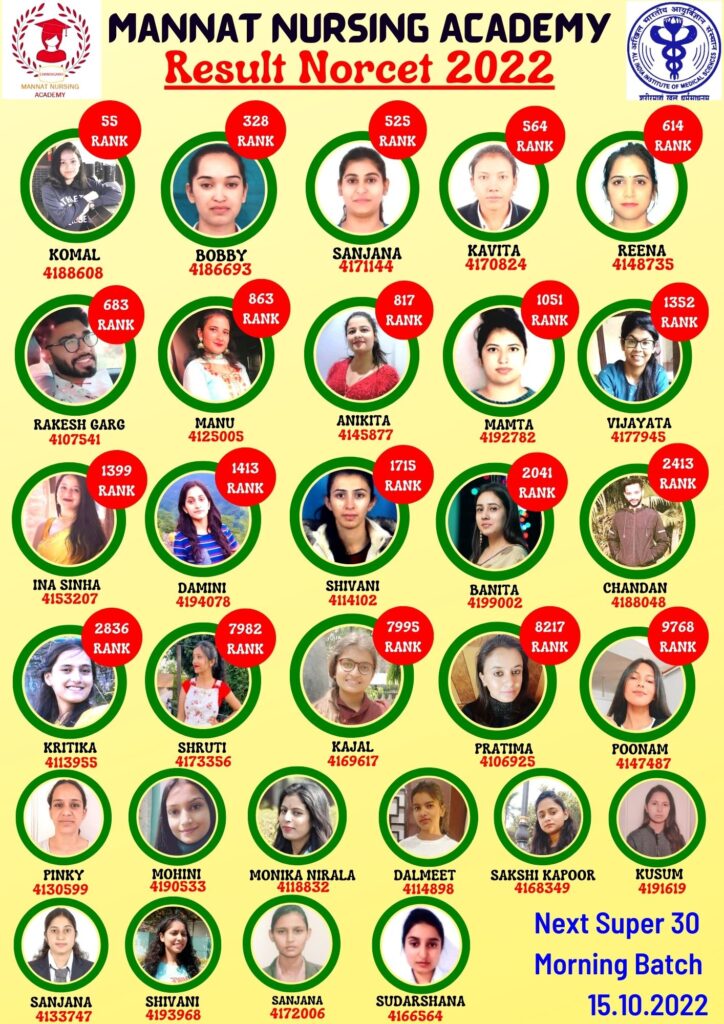 I heartily welcome you all to the Norcet 2022 award ceremony of this Nursing Academy. This is an occasion of joy for all of us as we have come together for celebrating this auspicious day. This goes without saying that the award ceremony is amongst my most treasured occasions of the academy as it provides us with an opportunity to reflect on the preceding year, address the whole community and share the achievements, success, and plans of our academy for the days to come.
why we celebrate this day
Mannat Nursing Academy truly believes that good education plays a crucial role in building a bright future for our students. Therefore, here we are committed to providing an atmosphere to our students where they all can imbibe good values & learn new things every day. Awards are a way to encourage good behavior and inculcate competitive spirit. This is the reason why our institution organizes an award ceremony every year to encourage its students. So we are here to give away the awards in mainly the categories for academics, distinction in sports. Arts, for participating in exhibitions, debates, and other social events.
Mannat Academy/Selection Machine
Our academy has always provided its students with a healthy and fairly competitive environment to help them grow in every sphere of activity, be it academics, sports or any other extra-curricular role. We have given equal opportunities to all our students so that they realize their true potential and get ready to face the outer world once they complete their goal. And I am much pleased to see our dear students performing and excelling in their respective areas of interests.
You worked hard and proved to yourself and everyone what you are capable of.
Best wishes for your continued success.
Head Office: SCO 112-113 4th Floor,
Sector 34-A Chandigarh – 160022
Call us: 95926-82437, 98158-43986
We are at: Shimla | Mandi (HP) | Kangra| Bilaspur (HP) | Hamirpur | Kullu| Palampur | Jammu | Amritsar