NCLEX-RN Exam
We prepare the students for NCLEX-RN Exam
The NCLEX-RN Exam
The National Council Licensure Examination (NCLEX-RN exam) has one purpose: To determine if it's safe for you to begin practice as an entry-level nurse. It is significantly different from any test that you took in nursing school. While nursing school exams are knowledge-based, the NCLEX-RN tests application and analysis using the nursing knowledge you learned in school. You will be tested on how you can use critical thinking skills to make nursing judgments.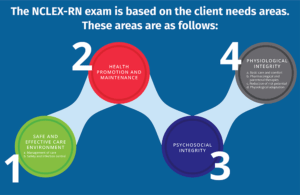 Types of Questions
Questions are primarily multiple-choice with four possible answer choices; however, there are also alternate question types. Alternate question types include multiple-response, fill-in-the-blank, hot spots, chart/exhibit and drag-and-drop. All questions involve integrated nursing content.
Let's look at the question:
A 23-year-old woman with insulin dependent diabetes mellitus (IDDM) is returned to the recovery room one hour after an uneventful delivery of a 9 lb., 8 oz., baby boy. The nurse would expect the woman's blood sugar to
Rise
Fall
Remain stationary
Fluctuate
Is this an obstetrical question or a medical/surgical question? In order to select the correct answer, (2), you must consider the pathophysiology of diabetes along with the principles of labour and delivery.
How many questions are there?
Everyone answers a minimum of 75 questions to a maximum of 265 questions. Regardless of how many you answer, you will be given 15 experimental questions that do not count for or against you. The exam administrators use them to test for future questions on the exam.
How much time will I have?
There is no time limit for each individual question. You'll have a maximum of 6 hours to complete the exam, which includes a tutorial in the beginning. There are no mandatory breaks. However, there's an optional break after 2 hours of testing, and another optional break after 3.5 hours of testing.
When does the exam end?
Your exam ends when one of the following occurs:
You have demonstrated minimum competency and answered the minimum number of questions (75).
You have demonstrated a lack of minimum competency and answered the minimum number of questions (75).
You have answered the maximum number of questions (265).
You have used the maximum time allowed (6 hours).
TIP: Try not to focus on the length of your exam. You should just plan on testing for 6 hours and completing 265 questions. And if you have a long exam, remember that you are still in the game as long as the computer continues to give you questions; so focus on answering them all to the best of your ability.
Taking the NCLEX-RN CAT
CAT is an acronym for "computer adaptive test," a testing format that is interactively based on your response to the questions. Based on your skill level, the CAT ensures that the questions are not "too hard" or "too easy."Your first question will be relatively easy—below the level of minimum competency. NCLEX_RN Exam If you answer it correctly, the computer selects a slightly more difficult question. If answered incorrectly, the computer selects a slightly easier question.By continuing to do this throughout the test, the computer is able to determine your level of competence.
Health Promotion and Maintenance
The second Client Needs Category is Health Promotion and Maintenance. These questions account for 6-12% of the exam. Nursing actions tested include the Aging Process, Ante/Intra/Postpartum and Newborn Care, Developmental Stages and Transitions, Disease Prevention, Health Screening, Lifestyle Choices, Physical Assessment Techniques, Health Promotion Programs, High Risk Behaviors, and Self-Care.
Psychosocial Integrity
The third Client Needs Category is Psycho social Integrity. It accounts for 6-12% of the exam and tested nursing actions include Coping Mechanisms, Grief and Loss, Mental Health Concepts, Spiritual Influence on Health, Sensory/Perceptual Alterations, Stress Management, Support Systems, Therapeutic Communication, Chemical Dependency, Behavioral Interventions, Crisis Intervention, Coping Mechanisms, End of Life Care, and Family Dynamics.
Physiological Integrity
The final Client Needs Category is Physiological Integrity. It includes four concepts:
Basic Care and Comfort

accounts for 6-12% of questions on the NCLEX-RN Nursing actions included in this subcategory are Assistive Devices, Elimination, Mobility, Nonpharmacological Comfort Interventions, Nutrition and Oral Hydration, Personal Hygiene, as well as Rest and Sleep.

Pharmacological and Parenteral Therapies

accounts for 12-18% of the exam. Tested nursing actions include Adverse Effects, Contraindications, Blood and Blood Products, Central Venous Access Devices, Chemotherapy, Expected Effects, Intravenous Therapy, Medication Administration, Pharmacological Pain Management, Total Parenteral Nutrition, and Dosage Calculation.

Reduction of Risk Potential

accounts for 9-15% of the exam. Its tested nursing actions include Diagnostic Tests, Laboratory Values, Potential for Complications from Surgical Procedures and Health Alterations, as well as Therapeutic Procedures.

Physiological Adaptation

accounts for 11-17% of the exam. Its tested nursing actions include Alterations in the Body Systems, Fluid and Electrolyte Imbalances, Hemodynamics, Medical Emergencies, Pathophysiology, and Unexpected Response to Therapies.
BENEFIT OF NCLEX-RN Exam
If you've ever looked into becoming a nurse, you've encountered some information about the NCLEX-RN Exam. The NCLEX test, which stands for the National Council Licensure Examination, is a test that determines an individual's readiness for nursing practice. The exams are taken after you complete nursing school and come in two flavors: the NCLEX-RN and the NCLEX-RN. According to the National Council of State Boards of Nursing, these tests are "nurse licensure and certification examinations consistent with current practice." The NCLEX-RN acts as an equalizer in the field and sets the standard for entry nursing knowledge.
In order to pass them you'll have to brush up on all of information you might not have thought about in a year. To prepare, you could just look over all your nursing school notes. Or, you could use study materials designed for the test. While expensive, you'll get benefits you won't get by just using your notes.
You'll Learn What Subjects Are On the Test
The first benefit you'll see is that you'll know exactly what's on the test. The NCLEX changes yearly and in order to get a good score you'll have to study what's going to be on your version of the test. The exam covers four major categories and eight subcategories that address meeting client needs.
You'll also get sample questions just like the NCLEX. According to test preparation provider Kaplan, the exam's questions "are primarily multiple-choice with four possible answer choices; however, there are also alternate question types. Alternate question types include multiple-response, fill-in-the-blank, hot spots, chart/exhibit and drag-and-drop. All questions involve integrated nursing content.
Discover Your Strengths and Weaknesses
The third benefit of using study material for the NCLEX is to discover your true strengths and weaknesses. It's easy to become biased about which subjects you're good and bad at. Maybe you think you're terrible at Anatomy, but in truth you know enough and should instead spend more time on Pharmacology or some other patient care piece. The study materials will help you root out the areas that need more attention, giving you a better edge than if you went by gut feeling and class notes alone.
The fourth benefit of using study materials is the practice scores. No matter how detailed your nursing school notes are, they won't give you NCLEX practice scores. The NCLEX-RN is scored on a PASS/FAIL scale, meaning that unlike the LSAT there is no acceptable range of scores. Another thing to keep in mind is that the test only has a certain number of questions, and those are all the questions you'll get. The more you can answer correctly out of the gate, the sooner you'll be done with your exam on test day.
NCLEX-RN Exam: Multiple Modes of Study
A fifth benefit of studying with NCLEX-RN test prep material is that you will be able to use multiple means of learning information. "Nursing school might have been a lot of lectures, but the test preparation is all on you," said Elite Reviews. Companies like Kaplan have videos, flashcards, books, and more to help you learn in ways that work best for you.
When you test using established prep materials, your study will go faster. This is one reason that nursing schools usually provide some testing materials. They know that when you have exam prep books and question banks, you'll be able to test (and pass) sooner than if you hadn't. And everyone wins when you pass the NCLEX-RN Exam.
You know you can pass because you'll have done it several times already via practice tests. You'll be able to avoid some of the testing jitters that plague the unprepared. And you'll be able to emerge a nurse. Finally, the most important benefit is that you'll be able to pass the NCLEX-RN Exam with confidence. When you've gone through hundreds of approved study questions and conquered your weak points, you'll be able to go in on test day without fear of the unknowns.
SCO 112-113 4th FLOOR
Sector 34-A, CHANDIGARH
9592682437, 9816275484