M-SAT Unique Scholarship Test
M-SAT (MANNAT SCHOLARSHIP CUM ADMISSION TEST) is the Offline Scholarship hunt for the Nursing (school / college) student's launch by Mannat Nursing Academy Chandigarh. M-SAT unique scholarship test in nursing field well planned and organised by Mannat Nursing Academy. The event is expected to be a huge crowd puller. It provides student the opportunity to earn a sponsorship to fund his / her education through perfect flow of management, creativity and knowledge. The event covers the entire world from very technical to the very fun filled ideas. Scholarship Test purpose to encourage the nursing students for achieve their goal, as well as financial support the students.
The M-SAT Scholarship test will provide ample opportunities to the students to show case their skills and presence of mind. The event symbolizes the innovation and creativity of human mind to churn out ideas and to make the world know – What they are and also to transform the world with their new and creative thinking. Unique Scholarship test aims to reach out, identify, reward & nurture talented students. It mainly focuses on the student's own curriculum which they are studying in the school/college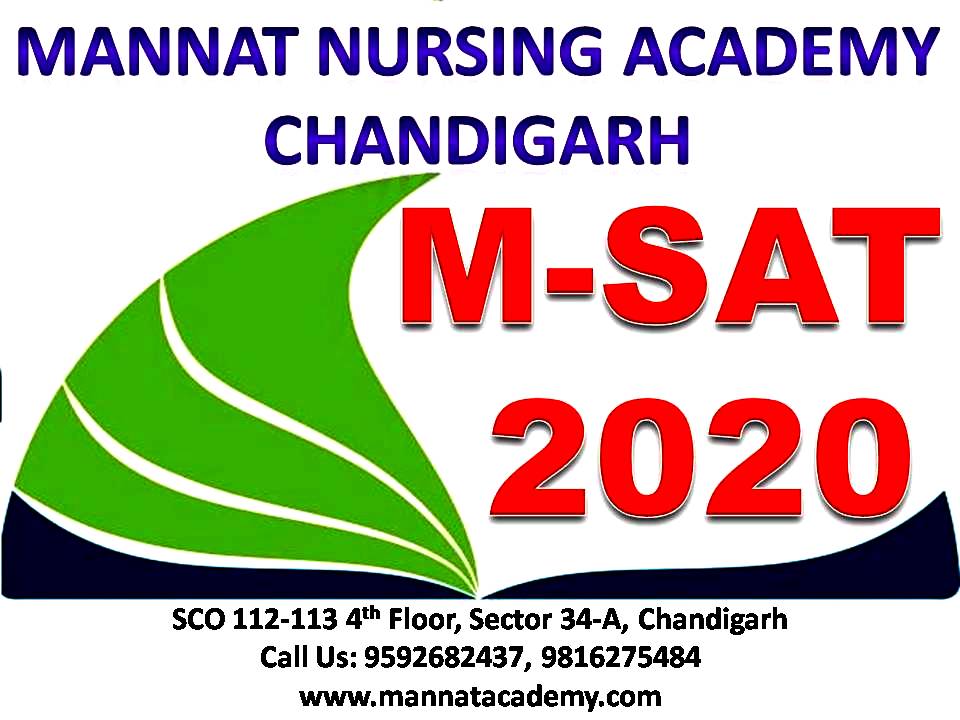 Unique Scholarship test(M-SAT)
M-SAT (Scholarship Test) is designed to offer scholarships for nursing students appearing / passed ANM / GNM(Nsg) / B.Sc(Nsg) / Pb.BSc(Nsg) / M.Sc(Nsg). Students to show case their talent which will boost confidence as well as future competitiveness for a bright career ahead. It is going to be the most unique SCHOLARSHIP TEST to be organized in North India. Mannat Nursing Academy is the Best platform for nursing students to achieve their goal for better future
UNIQUE SCHOLARSHIP TEST is designed for all those young minds with a bucket full of revolutionary and creative thoughts. With the objective of encouraging meritorious students and academic excellence, scholarships are offered for deserving candidates. The quantum of Scholarship and the number of scholarships are subject to change from time to time. We commit to students for sure selection in PGIMER / AIIMS / GMCH / ESIC etc. as a nursing officer.
Hello Nursing Students Mannat Nursing Academy organised the Unique scholarship test, it is the best opportunity to perform your talent. Don't waste your valuable time and register for M-SAT Unique Scholarship test. For more query and registration visit our website. Students can register themselves by online/offline mode
SCO 112-113 4th Floor
Sector 34-A, Chandigarh
9592682437, 9816275484