Mannat Academy Awarded Students
Today, I feel very privileged and honoured to stand here in front of you all and acknowledge the achievements of our brilliant students who have made both the Mannat Nursing academy and their parents proud. This program is held to recognize the young talents who have made an immense contribution to our Academy and the society. These brilliant students exhibit such qualities that will not only help them in achieving their goals, but also bring glory of success to our Nursing Academy. Today, we have gathered here not just to celebrate the achievements of our students, but also to give due regard to our values and morals which these awardees exemplify, like discipline, compassion and zeal for learning. mannat academy awarded students every year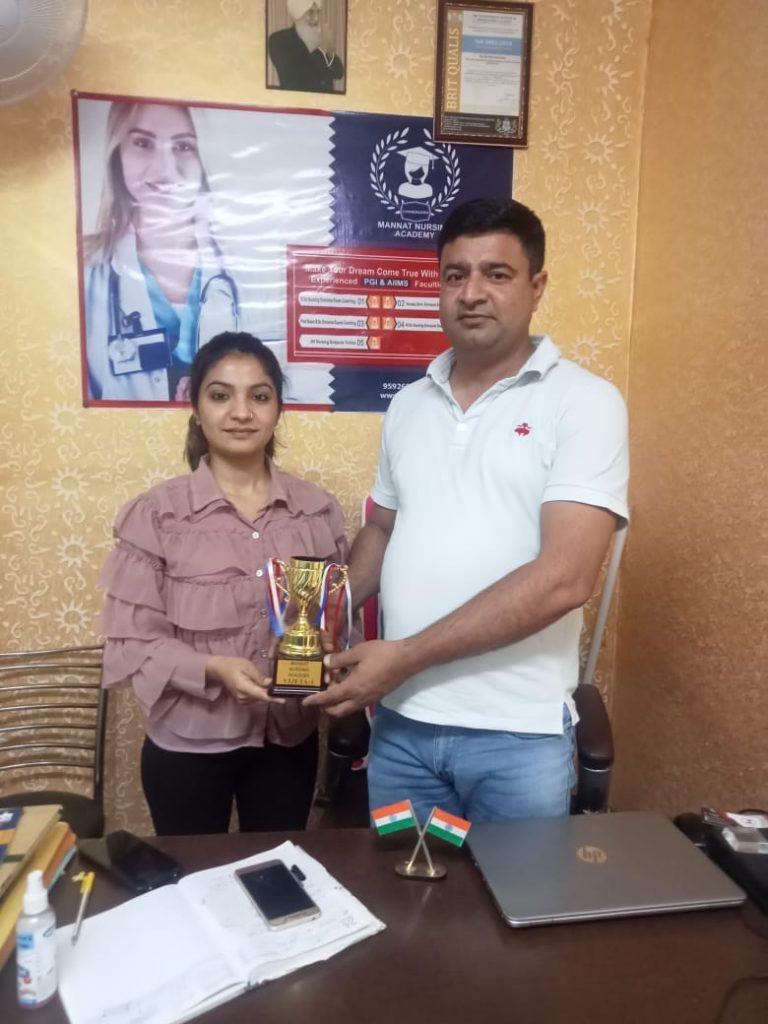 Awards are a way to
encourage good behaviour and inculcate competitive spirit. This is the reason why our Academy organizes award ceremony every year to encourage its students. The awards to be distributed today are not just for recognizing those students who have performed exceptionally well in their academics, but also to honour those students who excelled in Study, including the ones who were proactive in various social events. The aim is to recognize that extra talent of our students other than academics and motivate them to shine in their respective fields. Mannat Academy awarded Students achieve Award of honour for NORCET 2022.
Mannat Nursing Academy
institution has always provided its students with a healthy and fairly competitive environment to help them grow in every sphere of activity, be it academics, sports or any other extra-curricular role. We have given equal opportunities to all our students so that they can achieve their goal like Govt. Nursing Officer in AIIMS, Pgimer, Jipmer. Mannat Nursing Academy always give the best quality of nursing education.
Also, I would like to address those students who have not won any prize and say that do not lose hope as this is not the end of everything and there will be many more opportunities coming your way to prove your mettle. In the end, I would like to use this wonderful opportunity to welcome all Nursing Students for Crack Nursing Officer Entrance Exam and the board members for taking this institution to new heights and creating a distinct path for the students to follow. I would also like to extend special thanks to all the parents for joining us and making this occasion a huge success.
Thank You !

www.mannatacademy.com 
Head Office: SCO 112-113 
4th Floor, Sector 34-A 
Chandigarh - 160022 
Call us: 95926-82437, 98158-43986 
We are at:  Shimla | Mandi (HP) | Kangra| Bilaspur (HP) | Hamirpur | Palampur | Jammu | Amritsar