Mannat Nursing Academy's Vision
In Step 1 Mannat Nursing Academy Launched branch in Chandigarh for nursing students (very reasonable fee structure and Experienced Faculty)………We Achieve Our Goal . Now Mannat Nursing Academy's Vision. Director Dr. Sanjeev Kumar and Chairman Mrs. Sudesh Sharma & all other respective Management Persons conduct many seminars in nursing colleges for the purpose of aware the nursing students.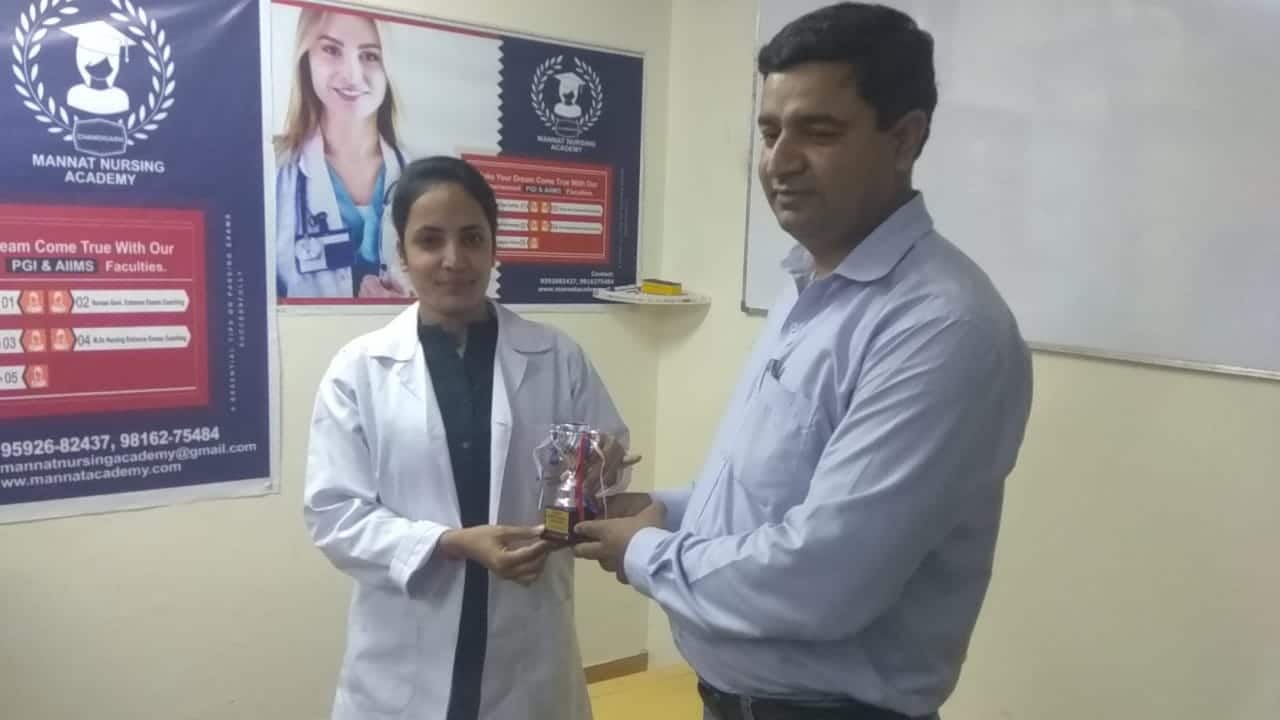 Talent Encouragement Test
Mannat Nursing academy conduct the talent encouragement exam for Nursing student and giving them Medals and trophy. By these activities the others students will motive and try to give their best to best . They visit in colleges and talked with students for future plan in nursing field. Mannat Nursing Academy aware the student for better future, How they can crack the Govt. Entrance Exam , What are the procedure to join Govt. Sector, what the nursing students can do after B.Sc (Nursing) or after GNM or PB. BSc (Nursing). Overall we found that there is lack of awareness in some interior areas of Himachal Pradesh (Lahaul Spiti, Kinnaur, Dalhouji) etc. Same as in Punjab State (Sangrur, Firozpur, Bathinda) etc.
Mannat Nursing Academy
takes a very nice step for students benefit of Nursing Students. Mannat Nursing Academy's Director conduct a meeting with other Management member. Meeting's Agenda was "how we can aware each and every student from Himachal, Punjab and Haryana". Finally Mannat academy management take a decision to open Admission/Information centers in each district in Himachal, Punjab and Haryana. By this centers nursing students can get all information for all Govt. Jobs Forms and procedure to join Govt. Job. These Centers Head persons will cooperate with students and aware for updates.
Mannat Nursing Academy Chandigarh recently launched M-SAT 2020 megha scholarship test. M-SAT scholarship test purpose only and only encourage the student. Our purpose not only encourage the students, even that financial support the students.
It is very beneficial step for Nursing Student those are living in interior area of HIMACHAL PARDESH, PUNJAB and HARYANA. Hello Nursing Students that Mannat Nursing Academy's Vision only and only your "Selection". Lets us register your self by online/offline mode
www.mannatacademy.com
SCO 112-113 4th Floor
Sector 34 A, Chandigarh
9592682437, 9816275484