Norcet 2022 – Nursing Officer
Mannat Nursing Academy Students, topper of the NORCET-2022 Nursing Officer entrance examination, said here today "hard work and focus" were the two things that made him get into his dream institution. "We thrilled that we will be studying at my dream college," Director MNA told they are feeling great and also emotional about topping the AIIMS-Nursing Officer entrance examination. MNA expressed gratitude to his Students and teachers for their cooperation saying they always encouraged him.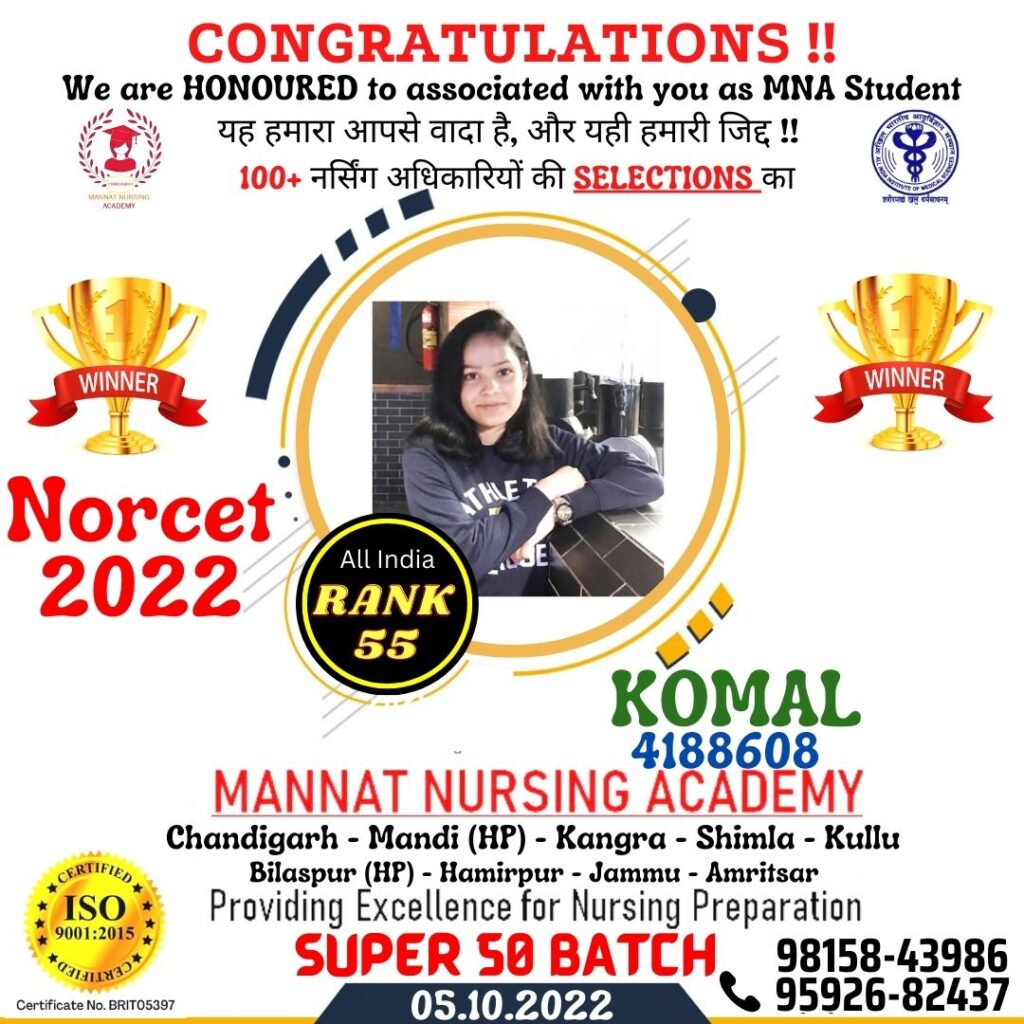 Hard Work:
They said for 5 months, our students focused on subjects for the examination, especially Medical Surgical Nursing and app other nursing Subjects. One should not only focus on syllabus but should explore out of it as well. "It helps a lot to crack such entrance examinations. On suggestions to the aspiring students, Mannat Nursing Academy said, "One needs to devote sufficient time to reach the goal. Focus and dedication are the mantras not only for Nursing Officer but for all examinations. I made Nursing Officer my target and when our students joined Mannat Academy they focus on the goal. Don't divert focus; your hard work will definitely pay".
Mannat Nursing Academy
Mannat Nursing Academy Director said, who also became second topper in the NORCET 2022 Nursing officer, said he would join the All India Institutes of Medical Sciences (AIIMS) to pursue Govt. Nursing Officer. He was also a student of Mannat Group of Nursing Academy. The AIIMS, which offers around 4000 seats, on 26 September 2022 declared the entrance examinations results, held on 11 Sep. 2022
The successful candidates
would get admissions at AIIMS New Delhi, Bhopal, Bhubaneswar, Jodhpur, Mangalagiri (Guntur), Nagpur, Patna, Raipur, Rishikesh, Bathinda, Deoghar (Jharkhand), Gorakhpur, Kalyani (West Bengal), Rae Bareli, Bilaspur (HP) and Telangana (Bibinagar). We all live in a competitive world. Aspiring minds are always taking giant strides in a bid to touch the pinnacle of success and then there is the 25-year-old Mannat Nursing Academy student, who hogged the limelight for his impeccable achievement.
Focus
He faced so many struggles in his life yet he was focused on studies. Today he successfully cracked the All India Institute of Medical Sciences (AIIMS) Norcet 2022 – Nursing Officer Exam in his first attempt to get selected to different AIIMS. MNA Students made his parents proud by getting selected to a recognised and prestigious medical college.
Our student also revealed how they worked hard day and night to touch the pinnacle of success. "they would study full day, in fact when the exams were nearing, our students would sleep just for 2-3 hours."
"Before the exam, we had a break of a month for self-preparation. Everybody left for their homes during that time. Even they did. Others could study, but we have no electricity at home so they would use a kerosene lamp to study or they used to go to my friend's place."
Head Office: SCO 112-113 4th Floor,
Sector 34-A Chandigarh – 160022
Call us: 95926-82437, 98158-43986
We are here at: Shimla | Mandi (HP) | Kangra| Bilaspur (HP) | Hamirpur | Kullu| Palampur | Jammu | Amritsar