M-SAT 2020 launched in Jammu and Kashmir
It is heartily announced that yesterday 06.03.2020 M-SAT 2020 launched in Jammu and Kashmir. It is the India's No. 1 scholarship test in nursing field. Mannat Nursing Academy's Director Mr. Sanjeev Kumar and other academic member conduct the M-SAT 2020 scholarship test in various nursing colleges in Jammu and Kashmir.
M-SAT 2020 scholarship test purpose to motive nursing students for their best future, it is the best platform to show their talent. Some students/parents fail to pay their academic fee for further study. This scholarship test will also helps the nursing students for earn money by the scholarship of rupees lakhs.
Now Jammu and Kashmir is under (UT) so there are so govt. posts. With the lack of awareness some students can't get proper guidance. For the awareness of students Mannat Nursing Academy conduct some seminar also in Jammu and Kashmir Nursing college ( BEE ENN, JK college, Stephen, Rajeev Gandhi nursing college) etc.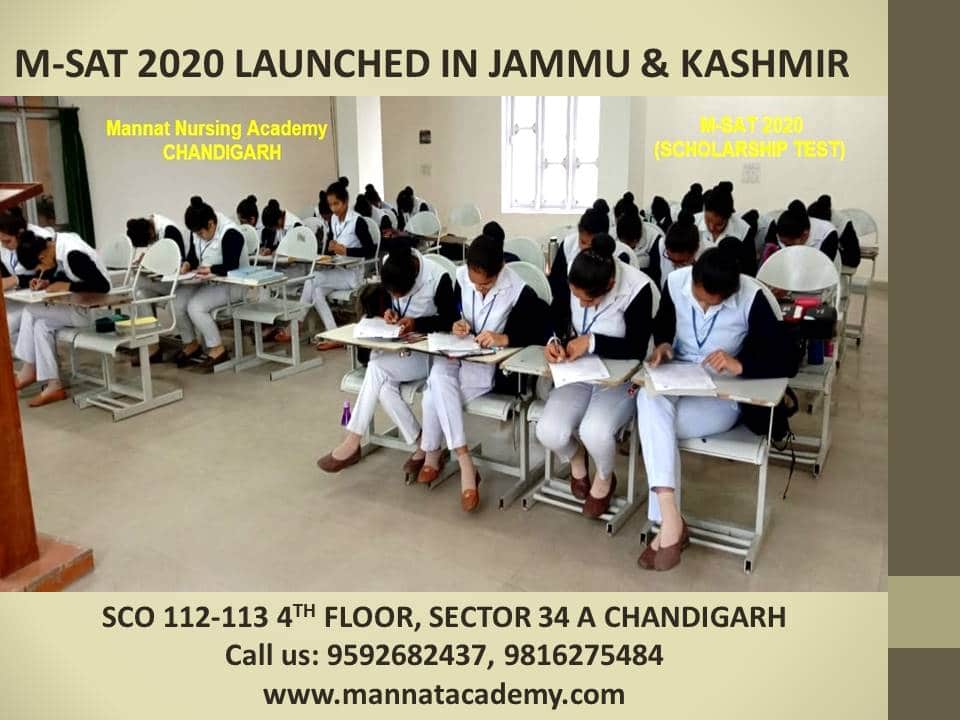 Branch at Jammu & Kashmir
Yesterday with the meeting of all nursing colleges principal and Mannat Academy director sir took a decision "launch a Branch in Jammu & Kashmir also". Very soon Mannat Nursing Academy also runs the coaching classes in Jammu and Kashmir City. With the lot of demand by the time and students Mannat Academy will start the nursing coaching competition class in Jammu & Kashmir. Time to time Mannat academy will update the nursing student and organized Mannat seminar and Scholarship test for nursing students. It is the best platform for nursing students to make bright future.
Yesterday approximate 1500 nursing students from Jammu & Kashmir appear in the M-SAT 2020 scholarship test. All the nursing students have full confidence for their Scholarship test. Mannat Nursing Academy always with the hard-worker students.
If anyone interested for government job and wants to crack the entrance exam for AIIMS / PGIMER / / GMCH / JIPMER / State govt. entrance exam for Nursing Officer: visit our website and register your self. Mannat Nursing Academy feeling happy with M-SAT 2020 launched in Jammu and Kashmir. If you also interested for M-SAT 2020 Scholarship test then also apply for test
SCO 112-113 4th Floor,
Sector 34 – A Chandigarh – 160022
9592682437, 9816275484